The Duke and I (With 2nd Epilogue) by Julia Quinn
My rating: 5 of 5 stars
Loved it
It's been quite a while since I've read a historical romance but this series has been on my to be read list for some time. I'm so glad I finally decided to dive in! The Duke and I made me remember what I love most about historicals and most definitely did not disappoint.
The Viscount Who Loved Me by Julia Quinn
My rating: 4 of 5 stars
The Score by Elle Kennedy
My rating: 4 of 5 stars
The Goal by Elle Kennedy
My rating: 5 of 5 stars
I've enjoyed all of the books in this series but The Goal was definitely my favorite. I loved Tuck and Sabrina!
The Librarian Principle by Helena Hunting
My rating: 3 of 5 stars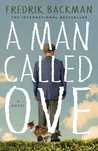 A Man Called Ove by Fredrik Backman
My rating: 5 of 5 stars
This isn't my usual genre of book but an acquaintance told me how much she loved it and I trust her judgment. I waited for months for my library to have an available copy and started as soon as it downloaded. I wasn't sure how I'd feel about this once I got started. I found myself frequently getting annoyed with Ove, especially when he was mean to the cat 🤷🏻‍♀️ but in the end the other characters won me over, much like the way they won Ove over.
The writing was lovely and I teared up several times. Definitely worth the read.